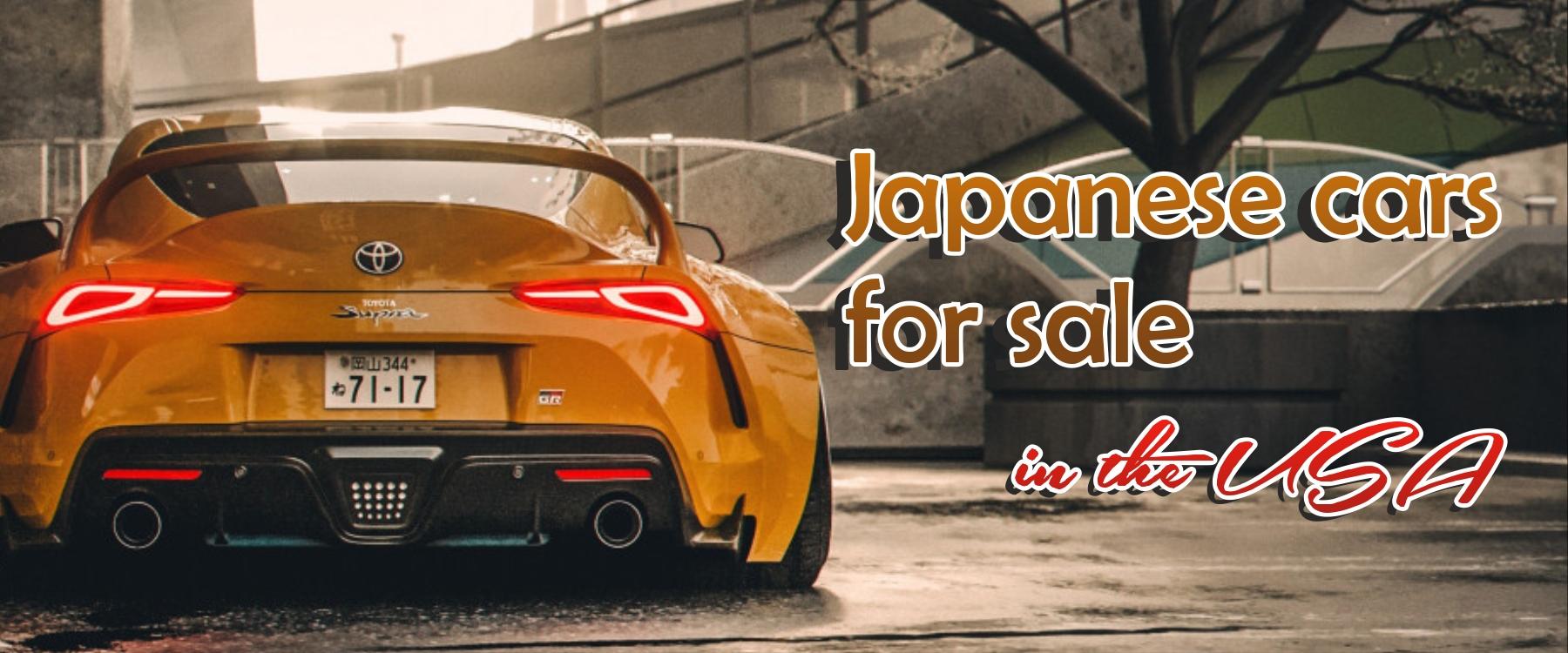 Japanese Cars For Sale In USA | JDM Import Cars
Welcome to JDM Import Cars, your premier destination for the finest Japanese cars for sale in USA. As automotive lovers ourselves, we comprehend the allure of Japanese engineering and design. Whether you're in the market for a sleek sedan, a strong sports car, or a reliable daily driver, our curated choice of Japanese imported cars caters to every taste and choice.
Why Choose Japanese Cars For Sale In USA?
Japanese cars have long been praised for their outstanding quality and detailed craftsmanship. Recognized for their dependability and durability, these cars stand as a testament to the accuracy and awareness of detail that is distinctive of Japanese manufacturing. When you select a Japanese car, you're supporting a vehicle that goes beyond mere transportation – it's a message of uncompromising superiority.
Stay ahead of the turn with the latest advances in automotive technology. Japanese cars are at the forefront of creation, boasting state-of-the-art features that improve protection, implementation, and overall driving knowledge. From advanced driver-help systems to cutting-edge infotainment, our preference for  japanese imported cars for sale in usa ensures you're equipped with the latest in automotive technology.
LATEST CARS
View Our Latest Cars
In-Stock
62K Verified/Documented Miles
4 WD with 4lo
5spd Manual Transmission
9ft bed with 3 fold-down sides
Gasoline 4cyl
View Details
Explore Our Selection Process:
At JDM import cars, we take pride in our meticulous selection process to ensure that every imported japanese cars for sale in usa in our inventory meets the highest standards of quality and performance.
Before a

Japanese cars for sale in usa

earns a spot in our showroom, it undergoes a thorough inspection by our team of experienced technicians. 

We leave no stone unturned, meticulously analyzing each vehicle to guarantee it meets our exacting criteria for undertaking, security, and overall situation.

We believe in transparency throughout the purchasing procedure. Each Japanese car comes with precise documentation tracing its history, benefit records, and any applicable data. 

We want you to make a knowledgeable decision and drive away with trust in your chosen vehicle.
Benefits of Choosing Japanese Cars from JDM import cars:
Competitive Pricing
Experience affordability without compromising quality. Our commitment to offering competitive pricing on japan import cars for sale usa sets us apart. Discover cost-effective solutions for your automotive needs without sacrificing the superior performance and features synonymous with Japanese cars.
Nationwide Delivery
No matter where you are in the USA, our national delivery guarantees that your dream Japanese car gets to your doorstep. Our logistics team is devoted to a seamless and timely delivery procedure, permitting you to enjoy your new vehicle without the bother of long waits or complex transportation structures.
Flexible Financing Options
Japan import cars for sale usa cheap for the purchase. At JDM import cars, we understand that purchasing a Japanese car is a significant investment. That's why we deliver flexible financing choices to suit your budget. Our finance experts work with you to discover the best explanation, providing that your dream car becomes a reality without extreme financial strain.
Embrace the Japanese Driving Experience
Indulge in the joy of driving a Japanese car that seamlessly combines performance, reliability, and style. At JDM import cars, we invite you to explore our collection of Japanese cars for sale in the USA and discover the perfect vehicle for your lifestyle. Whether you're in Florida or any other state, our commitment to excellence and japanese cars for sale in florida.
Take the first step toward owning a cheap import cars from japan that exceeds expectations. Your journey to owning a quality Japanese car starts here at jdm import cars.
Why Are Japanese Used Cars So Cheap?
Japanese used cars are often more affordable due to factors such as strict vehicle inspection regulations in Japan, a high turnover of models, and the overall efficiency of the used car market.
What Japanese Cars Can Be Imported to the US?
Various Japanese cars can be imported to the US, subject to compliance with safety and emissions standards. Popular choices include iconic models from manufacturers like Honda, Toyota, Nissan, and Subaru.
What Car Is King of JDM?
The Nissan Skyline GT-R is often regarded as the king of JDM (Japanese Domestic Market) cars.
Why Is JDM Better Than American?
The perception of JDM being better than American cars is subjective and depends on individual preferences. Cheap jdm cars for sale in usa and Japanese cars for sale in usa are often appreciated for their unique designs, cutting-edge technology, and emphasis on performance, while American cars may excel in different aspects such as size and raw power.
Why Are JDM Cars Better Than American Cars?
The belief that JDM cars are better than American cars is subjective. JDM cars are often praised for their lightweight design, advanced engineering, and superior handling.
What Are the Advantages of JDM Cars?
JDM cars and Japanese cars for sale in usa offer several advantages, including advanced technology, innovative features, and a reputation for reliability.
CONTACT US
Let's talk about your contracts